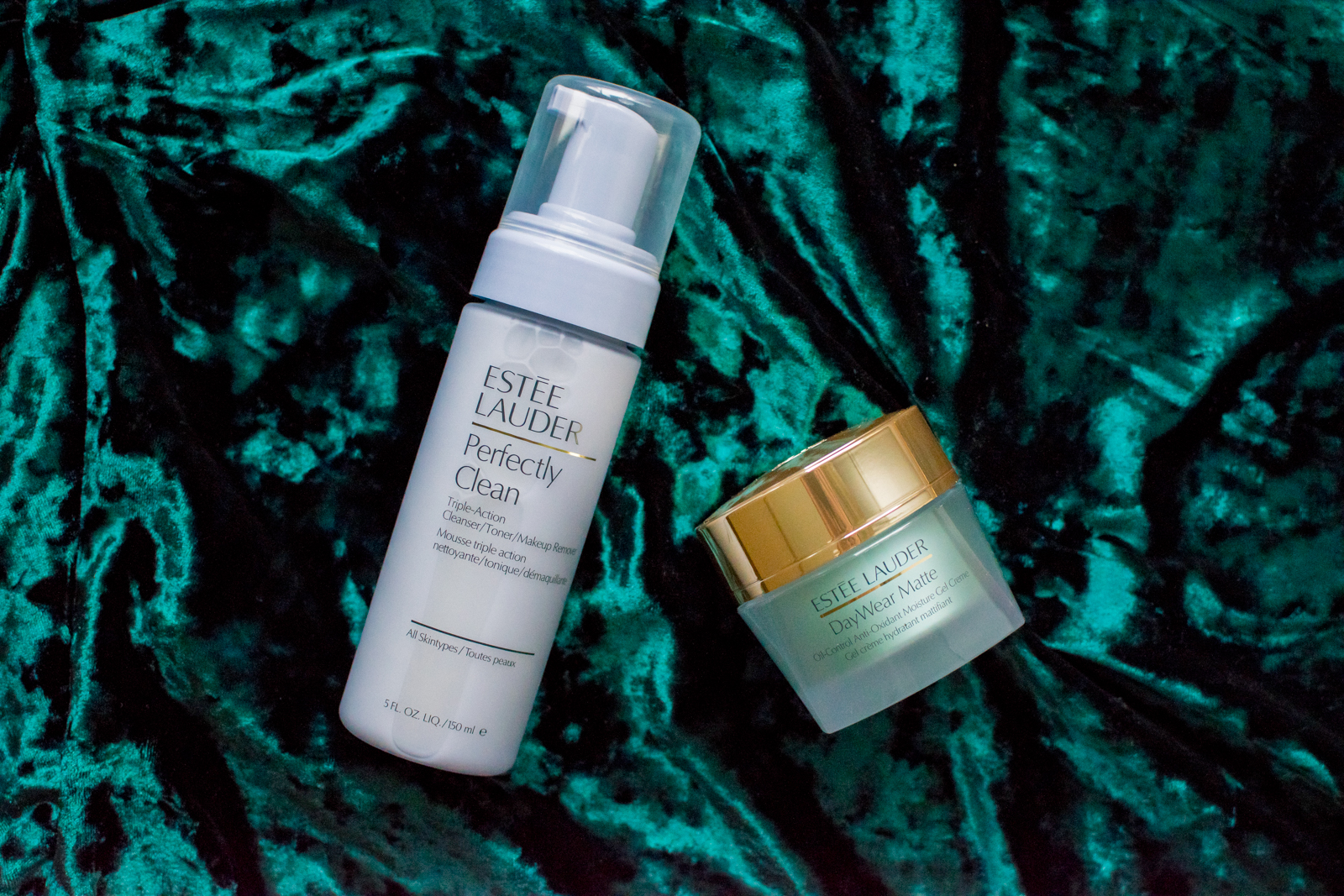 Hey Guys! Happy Friday! After several busy weekends, I'm excited to lay low this weekend. We're going to see Thor at the movie theater, and I'm going to clean out my makeup drawer. I'm the absolute worst at this since I hate to throw away products (but there's still some left!!!) and I also have the habit of saving samples I get "for a special occasion" and inevitably end up forgetting about them. And then they go bad. Oh well, out with the old, and in with the new! Speaking of which, I wanted to share a couple new products I've been using.
Estee Lauder Triple-Action Cleanser/Toner/Makeup Remover – I haven't shared a skincare routine update post since July! Outfits change with the season/weather, and so should skincare! As I've said before, I need to keep my skincare routine super simple, otherwise it's just not going to happen. Even though it has been a while since I went to bed with makeup on, I'm definitely guilty of skipping makeup remover and going straight for a cleanser. Then I end up with raccoon eyes, which I try to wipe away with a tissue. When that fails, I put hand lotion on the tissue and try again. Makeup comes off. Lotion gets in eye. Fail. The amazing thing about this product is that it takes the place of cleanser, toner, makeup remover, AND toner. (Have I mentioned that I rarely use toner? Something about having to get cotton balls out just makes it so much more difficult). Yay for multipurpose products!
Estee Lauder DayWear Matte Oil-Control Anti-Oxidant Moisture Gel Creme – Now that it's colder (um, it's currently blizzard-ing outside, ahh) I started wearing a moisturizer in the morning under my favorite tinted moisturizer/suncreen. Despite the fact that my skin gets dry, it's also really oily and I can get super shiny. I really don't understand how that works, can someone enlighten me? I could probably go through a pack of blotting papers a day if it weren't for this product, thank goodness. Who wants to spend 1/2 of their salary on tiny pieces of paper…why are those things so expensive anyways? Back to the my point. I need the extra hydration in the winter, but I still stick to a mattifying  gel creme to control my oily/combination skin. It's really the best of both worlds. If you don't have issues with shine, it also comes in a regular version. I don't really need the oil control at night, so I've been using this. It's technically an overnight mask…the instructions say to pile on a thick layer, let it sit for a few minutes, and then wipe most of it off, leaving a thin layer that you can then leave on/rub in. That seems like a waste of product to me, so I've just been using it as a overnight moisturizer. I'm almost out though, and in need of a new night cream in case anyone has a recommendation!
Have a great weekend!
((Disclaimer: I received these two products courtesy of Estee Lauder in exchange for an Instagram post. I chose to blog about them because I wanted to!)
Shop the Post