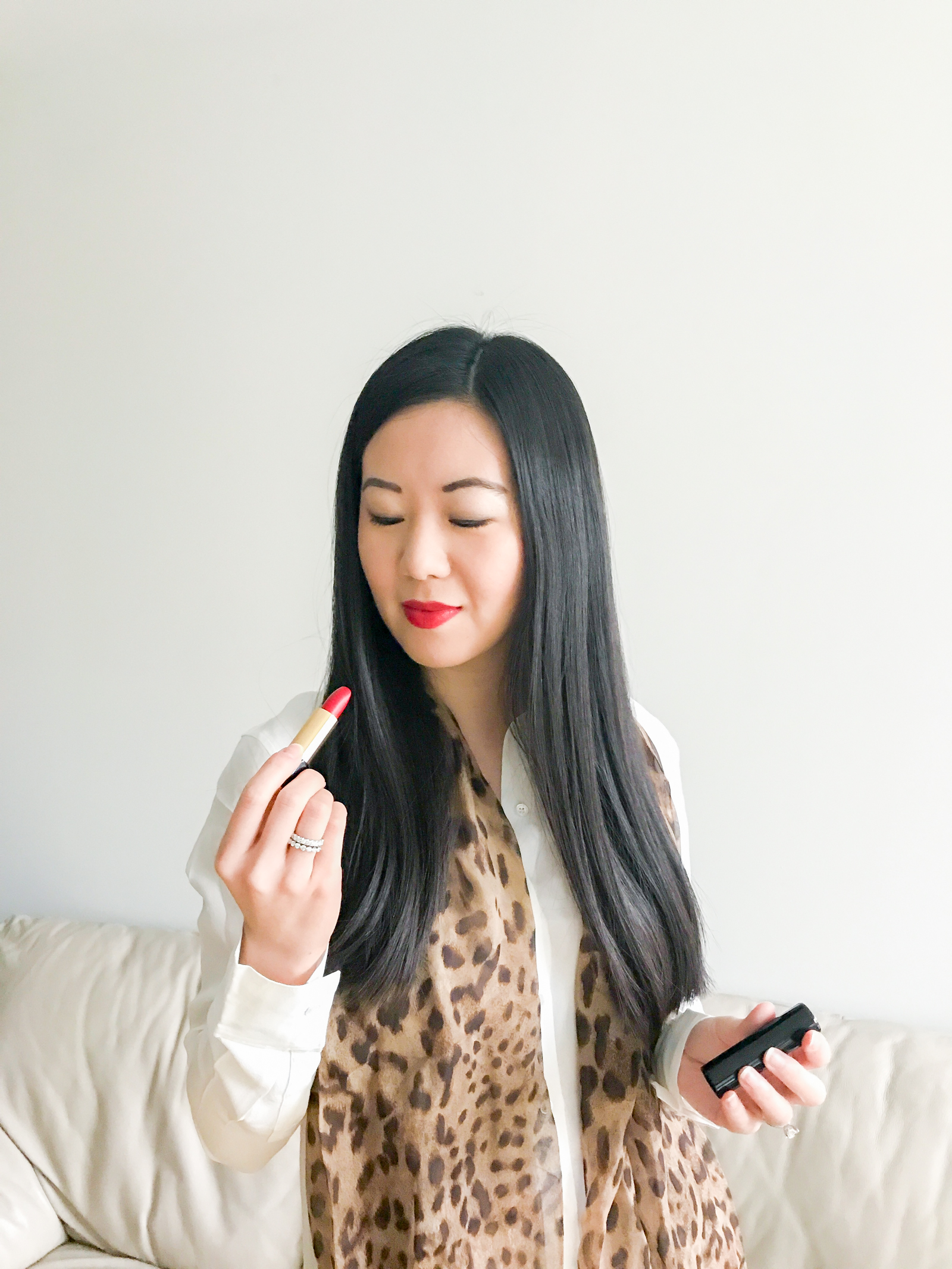 Hi Everyone! Two more weeks of work until I'm off to Europe! Yay!
Who else is swimming in holiday events? I had my friend's holiday party at the beginning of the month, and last Friday, I went to an all day company holiday party. This weekend, I have an ugly Christmas sweater party, and an engagement brunch for another friend. Then on to Paris for a wedding! Whew!
Anyways, I wanted to share a few items from my go-to holiday makeup look (casual and formal)!
Lancôme L'Absolu Rouge Lipstick in Isabella and Juicy Tube in Marshmellow Electro – This is my favorite shade of red lipstick. I'd say it's a red-red (not orange-red, not brown-red, not pink-red). Chris usually doesn't love bold lipsticks on me, but he likes this one! The finish is creamy, which is the look I prefer for more formal events, but for a more casual/fun event, I like to swipe one of the Juicy Tubes on top for shine/sparkle.
Yves Saint Laurent Eye Smoker Duo in Smoky Brown – I'm obsessed with this product. I'm definitely not an expert at applying eyeshadow, but this makes it so easy. I just smear on the darker shade closer to my lash line, and layer on the lighter shade up to my eyebrow, using my finger to blend. It also travels so WELL. I hate carrying a huge eyeshadow palette in my makeup bag…it takes up so much space, and the eyeshadows often end up breaking and making a mess. Definitely bringing this to Europe with me!
Urban Decay All Nighter Setting Spray – I've been using this for 5 years…not everyday, but when I need my makeup to last 16 hours. I definitely wear this for any special event I have, especially one where I need to talk to a lot of new people. Nothing worse than EVERYONE noticing that you have raccoon eyes, but being too nice to say anything. I'm not sure exactly how this works, but the product somehow lowers the temperature of your makeup to keep it looking fresh! (It doesn't feel cold though).
I'd love to hear how you update your look for the holidays!
Shop the Post