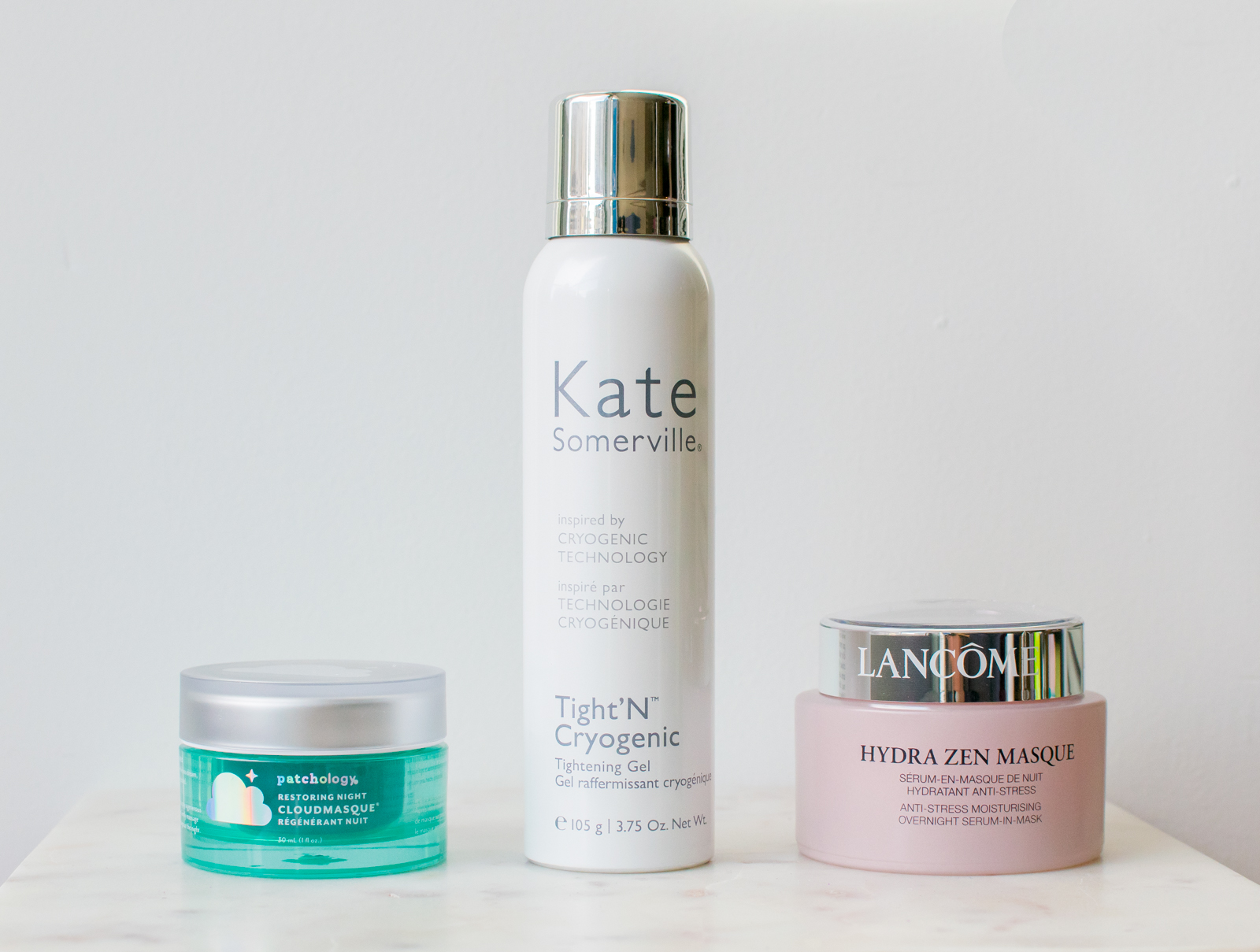 Hi All! I'm off work again today to burn my last vacation day for the year. I really didn't think I'd have any left after our honeymoon to Dubai last January, but I guess after that, I took very few days off, especially since Chris doesn't have nearly as much time off as I do. (This is NOT going to be a problem next year with all the trips I have already).
I can't believe Christmas is right around the corner. I don't know if it's because we're staying in Chicago and not visiting family this year (before taking off to Paris) or what, but it's definitely not the weather. It's been cold enough for sure.
Due to a few factors such as extra stress from work and school, and not sleeping well, my skin has been breaking out a little more than usual. My sister recommended these to me, which are super weird, but also pretty effective. I also saw on Jess Keys' (from the Golden Girl Blog) Instastories that she's been drinking spearmint tea to help with breakouts. First of all, I love Jess (and Blair!)…I took their Blogging 4 Keeps photography class back in April, which gave me the courage to start blogging. Secondly, I'm obsessed with tea. I drink so much tea, I need more caffeine-free options, otherwise I can't sleep, and then I need caffeine to stay awake…it's a vicious cycle. Anyhow, I did some research and found that a lot of the "mint" teas available are actually black tea, with either some mint leaves or mint flavoring thrown in there (including the one that's available at my office). I ordered this caffeine-free one from Amazon, and I've been drinking it for a couple of weeks. I actually think it's helping! Also, I noticed I had some FSA money left before it expired, so I ordered this light therapy mask. I haven't tried it yet, but I will let you guys know! It's kind of fun to spend FSA money on something that's not bandages.
Alright, back to topic…I wanted to share a few more items I've tried recently. Two are face "masques." Does anyone know the difference between a "masque" and a "mask"?? Is "masque" with a Q just fancier sounding? I don't know if this is the case, but the "masques" I've used, you don't wash off, and are more like night creams, and "masks," you wear for 10 minutes and rinse. Is this actually the case?
Lancôme Hydra Zen Night Masque – I was using this Kiehl's masque for a while, but I ran out. It kind of bothered me that the instructions said to put on a thick layer, let it sit for a few minutes, and then wipe most of it off, leaving a thin layer that you can then leave on/rub in. It sounded like a waste to me, so I just used a thin layer like a moisturizer. However, after I switched to using silk pillow cases, I felt like my face was sticking to the silk. This Lancôme masque doesn't require you to waste any product…you just apply as normal, and it's not greasy at all! The coolest thing about this masque is that it has a built-in serum which improves radiance and reduce the visible signs of stress. I LOVE 2-in-1 products.
Patchology Restoring Night CloudMasque® Night Cream – This masque is also very light-weight and has anti-aging properties, specifically, Hyaluronic Acid, Retinol, and Peptides. Together they help to improve elasticity, speed healthy cell turnover, and reduce fine lines and crow's feet. I'm bringing this to Europe with me next week!
Kate Somerville Tight'N Cryogenic Tightening Gel – This product is so cool! It's a "crackling" gel that goes on cold and leaves the surface of skin looking tighter. I've been using it at night as the last step of my skin care routine, but you can also apply it in the morning, prior to applying makeup. I feel like my forehead has been looking more creased lately, and this helps! The results are meant to be both immediate and long-term with use.
Have you used any "cool" new products lately?
Shop the Post