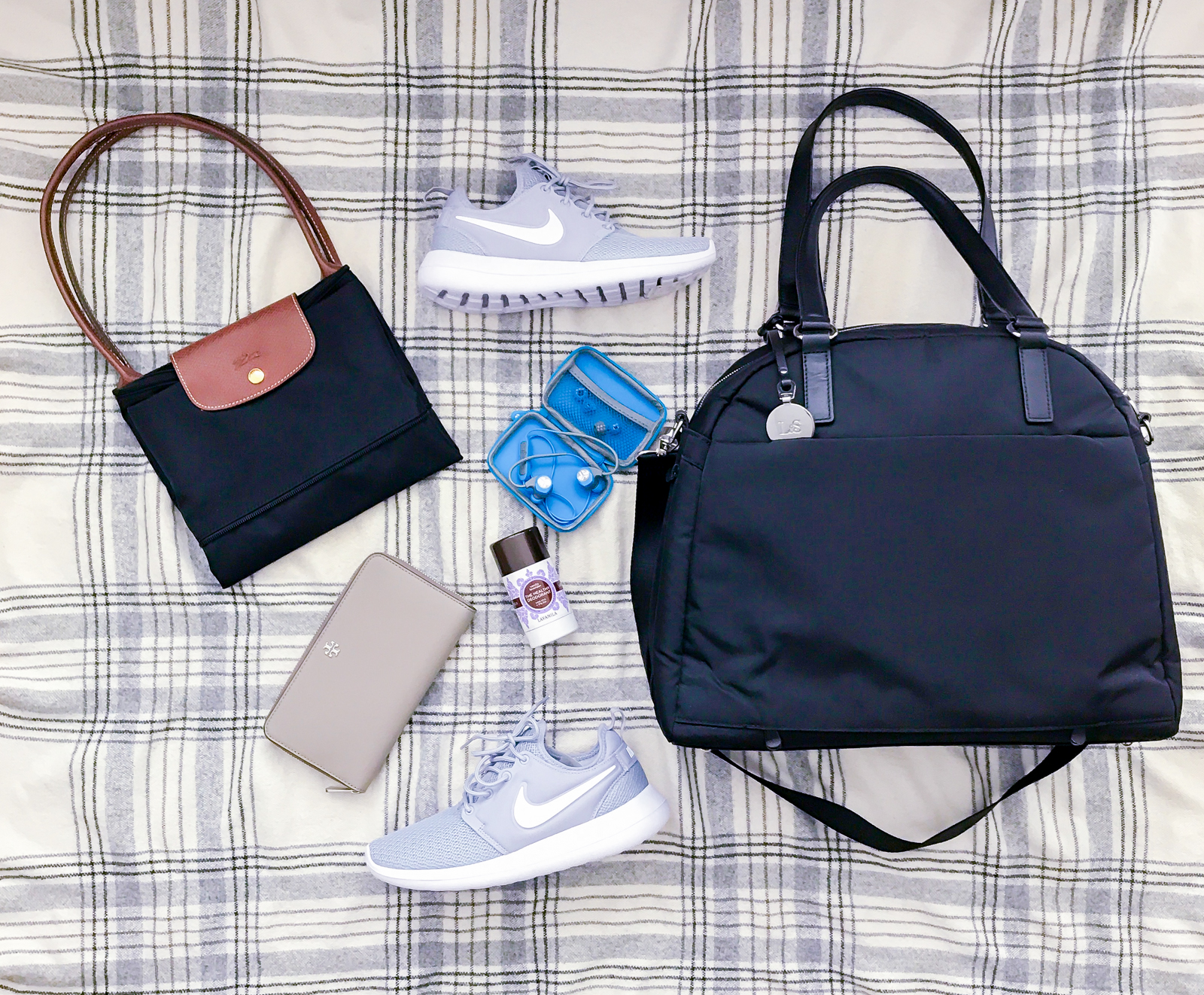 Hi Everyone! Happy Friday! We are heading back home tomorrow after almost two weeks in Europe…back to reality! I'm excited to share lots of pictures soon! One lesson learned though…I think I might have overpacked for our trip, although Chris warned me multiple times, and I still refuse to admit it to him, haha 🙂 (What's a girl to do? Winter clothes are heavy and take up a lot of room!) Lugging 3 suitcases, 1 backpack, 1 large overnight bag, and my purse across three countries down cobblestone streets is no easy feat. At least I can say we got a little workout in.
I think this trip was the exception though, as generally, I try really hard not to be a super heavy packer. (We had to bring wedding guest attire, and I wanted to bring a couple extra coats in order to shoot some looks for outfit posts – as opposed to bringing 1 coat like a normal person!)
I'm envious of you ladies out there who drive everyday. Your car is your handbag! If you walk/take the train/bus everyday like me, it can be really easy to get bogged down. You have your purse with your wallet and personal belongings. If you bring your lunch from home, you might have a lunch bag. If you go to the gym before/after work, you have a gym bag too! What if you need to pick up a few groceries? Who wants to be a bag lady with THREE or more bags?! (As you guys might know, I LOVE bags, but I don't need to carry 3 at once). One can easily get left behind on the train. To avoid carrying multiple bags, I've also made the mistake of leaving gym clothes at home, telling myself that I'll stop home first before heading over…well let me just tell you, once I'm home, it probably isn't happening. You guys know that I kind of hate exercising to begin with, so I need to make getting there as easy as possible for myself.
So here's how I pack if I'm heading to the gym after work (I wish I could be a morning person and go in the morning, but that literally sounds like hell to me, haha.)
Bag – Guys, I love handbags so much. However, I don't want to stick my favorite bag in a gym locker, or a yoga studio cubby (sans lock). I usually use the O.M.G. bag from Lo & Sons or a Longchamp Le Pliage tote. There are definitely benefits to both. The O.M.G has a ton of pockets and compartments, and the Longchamp is just one big tote, with a tiny side pocket. Sometimes I feel like organizing all my things, and other times, I think it's easier to dump everything all together. Both are professional enough for most offices and will fit a laptop and other work essentials, as well as a water bottle that you can use for the office and gym. I've had both of my bags for several years, and both have held up really well. Another important feature is that both can be wiped clean. Which is important if you're going to stick it in an icky locker!
Shoes – Do you commute to work with one pair of shoes, and then change into another pair at the office? I try not to wear gym shoes if I'm wearing a dress or something, but sometimes flats don't work if I'm walking to work – I walk almost 2 miles! These are my new favorite sneakers (does anyone say sneakers anymore?) They are very comfortable, and I love the light gray. I also have a similar black pair, but I feel like these gray shoes go with everything! One great feature is that the O.M.G bag has a separate compartment for your shoes, so they won't touch your other stuff. Despite this, I always put my shoes in a separate bag just to be extra germ-free. (Have you seen the floor on public transportation???) I normally just use a plastic grocery bag, but a shoe dust bag or an old pillow case would work.
Wallet – I love this wallet because it zips all around, (good for storing receipts, knick-knacks, and even my phone inside), as well as the fact that it's made of Saffiano leather. Saffiano leather has a cross-hatch stamp on it, rendering the leather weather-resistant, and easy to clean. Have you ever had a wallet, where the corners get dirty? Not this one. I can throw this wallet in my O.M.G bag or Longchamp tote and head out the door.
Headphones – I use headphones for most of my workday. At my office, we use our laptops to make phone calls, and I'm often in a meeting where I need to dial-in. I'm also lucky that I can listen to music for a lot of my work day. It helps to drown out others talking when I'm trying to concentrate. #cubelife. I've tried wearing over-the-ear noise cancelling headphones before, which was nice, but it is NOT good for when your manager is standing behind you and has to yell your name to get your attention, haha. Not to mention they're super bulky to carry around. I now stick to earbuds. I find that the standard ones that came with my phone don't do the trick for the gym. They fall out of my ears or sometimes shock me if I'm running. Also, it's super annoying that the newer iPhones have a different headphone port, so I can't use the same headphones with my laptop and phone unless I have the tiny converter handy, which let's face it, it's like 1 inch long and super easy to lose. I love these Bluetooth sports earbuds from JLab Audio. The Bluetooth feature allows me to work out without getting tangled in the wires, and I can use them with my phone, laptop, iPad, whatever! The Bluetooth lasts 12 hours on one charge, and they're WASHABLE! Dried ear sweat = not cute. They also come with lots of different sized ear gel-tips, so you can find the right fit, and a little carrying case, so they don't get squished in your bag. I feel like they help to cut out some of the treadmill noise even though they're not meant to be noise cancelling.
Deodorant – I definitely don't want to be the person who smells bad at the gym. I try to always wear natural deodorant, which sometimes does require more applications. This comes in travel sizes, which is great for leaving in your bag.
How do you commute to work? (Or school?) How many bags does it take to get you through your day, and what are your must-haves for the day?
I received my earbuds complimentary of JLab Audio. All opinions are my own. 
Shop the Post