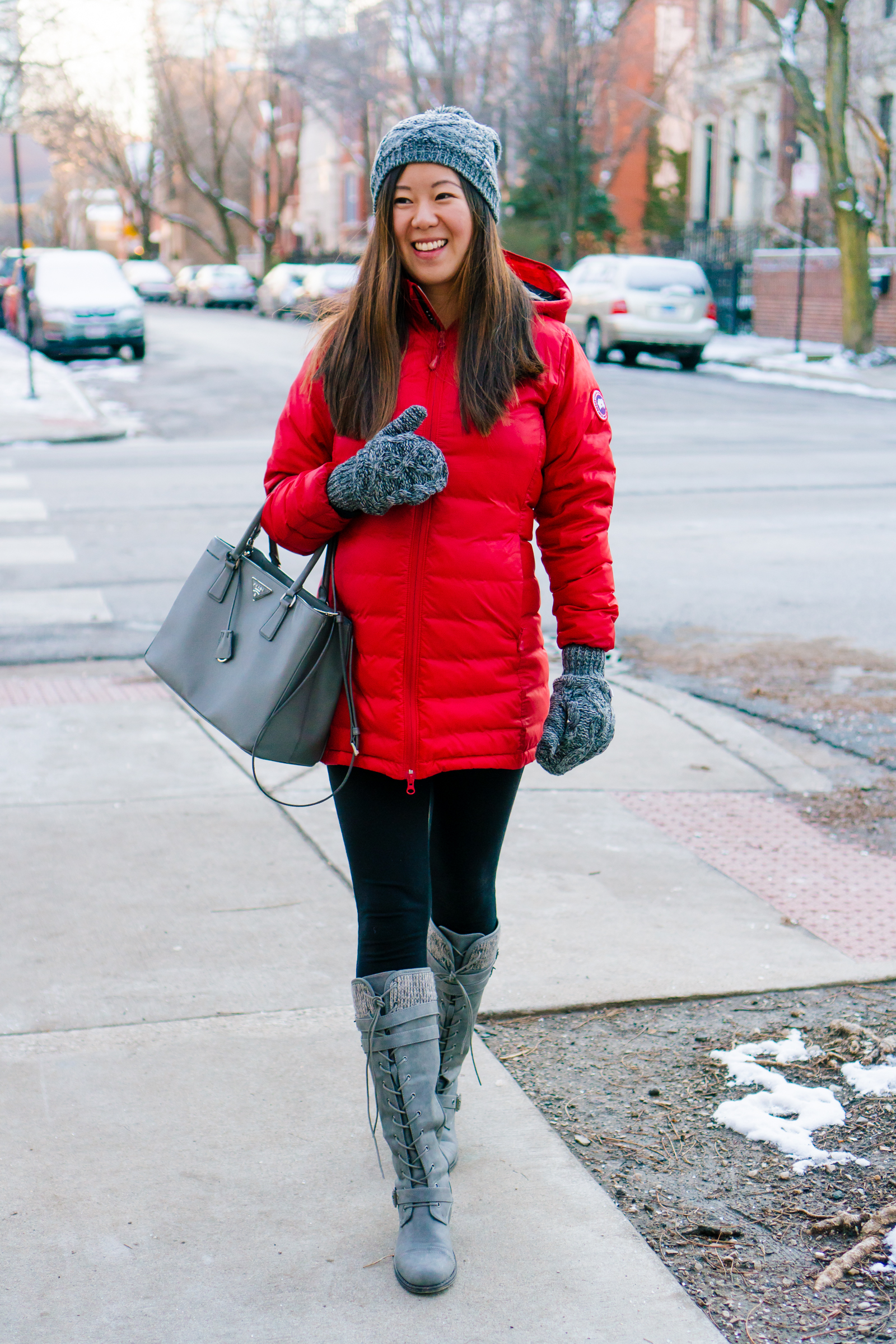 Happy Friday Friends!
What are you up to this weekend? Today, I have a doctor's appointment, and after work, we MIGHT have an appointment to see our condo, which is supposed to be done now. Tomorrow, I'm going to prenatal yoga + tea in the morning, and then we're spending the rest of the weekend packing and watching the NFL playoffs.
Speaking of yoga – one topic of discussion that comes up after my prenatal yoga classes  is whether to get a maternity coat or not. Should you get a maternity coat?  I think it depends! But I'm not getting one, despite living in Chicago.
Luckily, at 28 weeks, I'm still fitting into my Canada Goose down puffer (available in black, red, and dark green). My Canada Goose parka and most of my other coats/trenches do not fit though. (See my Canada Goose review posts here and here). I also have this wool coat in both black and white, and because it's a bit bell-shaped at the bottom, they still fit. Lastly, I can also wear my wrap coat…those are pretty forgiving. Also I'm obsessed with my new hat and mittens…they're SO warm…and on sale!
It's been pretty cold this past week in Chicago (teens and 20s) so not wearing a coat is not possible. While I'll probably make it through the rest of January with my coats above, what about February (which might be colder than January) and March? (which will be in the 20s-30s). I envy you ladies who live in places where it's in the 60s/70s by March! But then again, you probably have insanely hot weather by May, and that's not comfy when you're pregnant either.
Unfortunately, there aren't a ton of great options for warm, well-priced, cute, well-made maternity coats. Most of the brands that are known for their coats do not have a maternity line…like The Northface, Patagonia, etc. This makes sense though, because many people are not willing to invest in a coat that they won't re-wear. Even if you get pregnant again, there's no guarantee that your maternity coat will still fit, depending on the season and how early/late you show.
Old Navy and ASOS have some affordable options – see below.
However, in my case, I'd rather get a better quality non-maternity coat. Because maternity clothing pricing tends to be inflated, you can find regular coats on sale for a similar price. My trick is to size up 2 sizes. (Or 1 or 3, depending on your needs!). For me, I typically wear an XS in coats (0-2), but I've found a ton of great coats in size M that are on sale. Even better, my mom wears M, so I can always give my coat to her after my pregnancy, and she can get good use out of it. I ordered this coat in a larger to size to see how it fits – it's currently 60% off! At only $38, this highly rated pea coat (that comes in several colors) wouldn't be a great loss to buy in a larger size (see my post here).
Another possibility is to purchase a warm fleece in a maternity or larger size, and wear that under your regular coat, which you can then leave unzipped. If your belly get chilly, an oversized scarf helps too!
Or you can get a coat extender! It zips onto each side of your coat, to keep it closed. Or you can tuck baby inside in a carrier!
I've also heard some women mention wearing their husbands' coats. My first thought was no…not fashion friendly. But then I tried on one of Chris's The North Face jackets. And it actually looked pretty normal on me, while still leaving lots of room for my belly! Having said that, Chris is 5'10" and he wears a size small. If you have a giant guy, this probably won't work!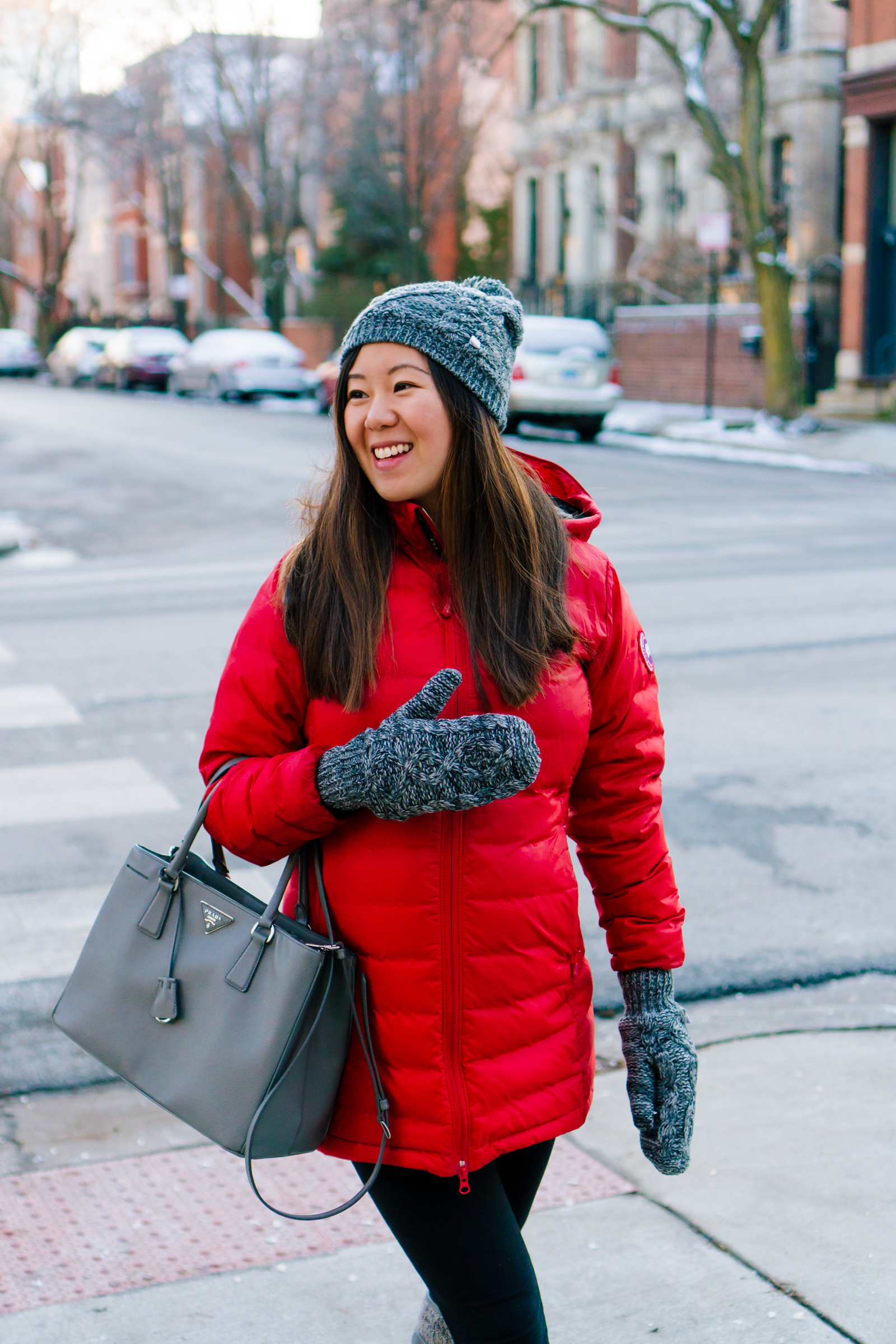 If you're pregnant, or have been during the winter, let me know what you did for a coat!
Shop the Post