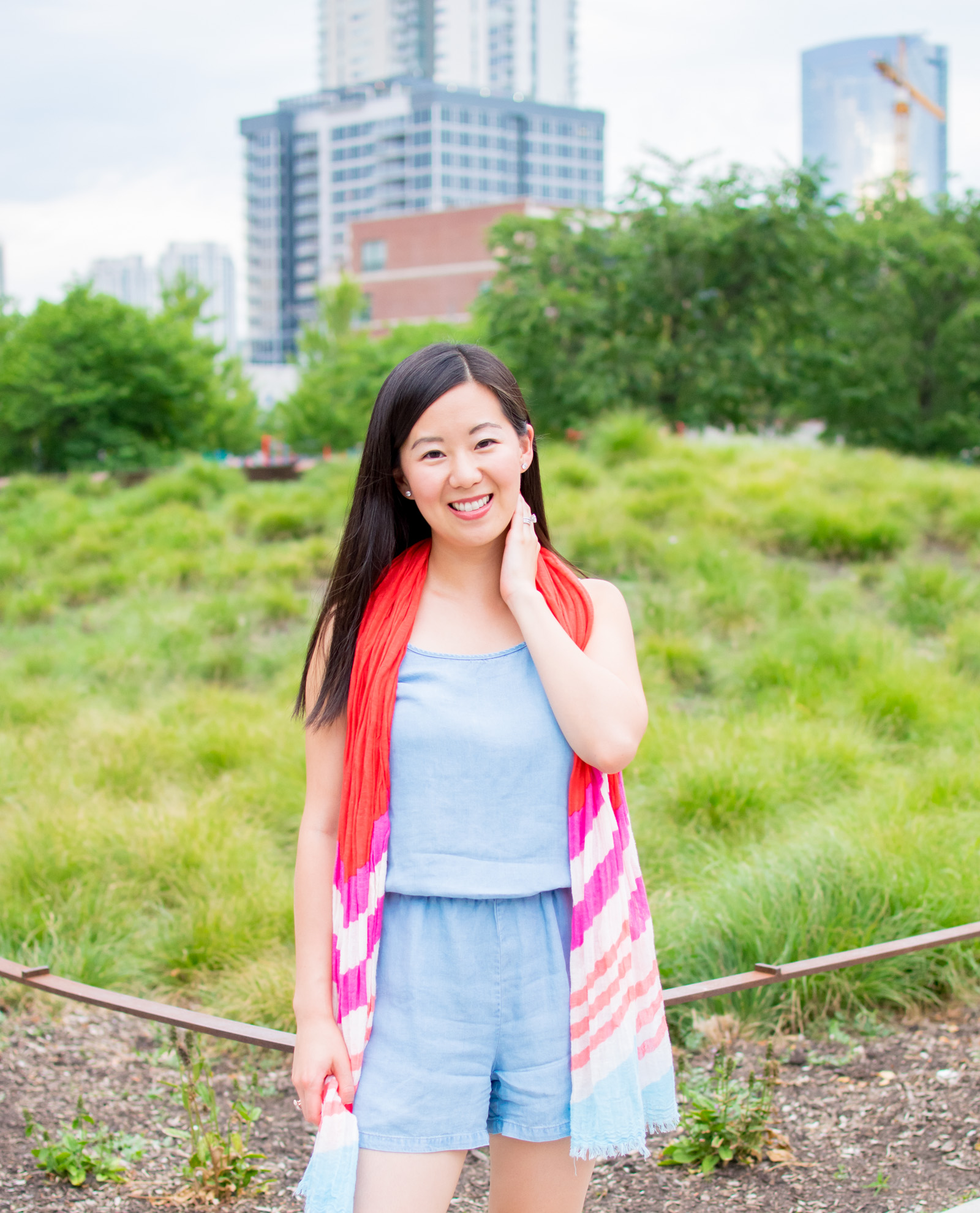 Ahh, the early access Nordstrom Anniversary Sale starts today! I may or may not have online chatted a representative to find out exactly what time it started in case I wanted to stay up. Apparently, it was 12am PT, so I had to go to bed. The days of staying up until 2am on weeknights are past me! Stay tuned for a post on my favorite picks!
Anyways, I wanted to share this outfit that I'm super excited about. Believe it or not, I've never owned anything chambray! Not since second grade anyways. Isn't it crazy how these things come back? I also wore rompers back in second grade, but I don't remember it being considered super cool.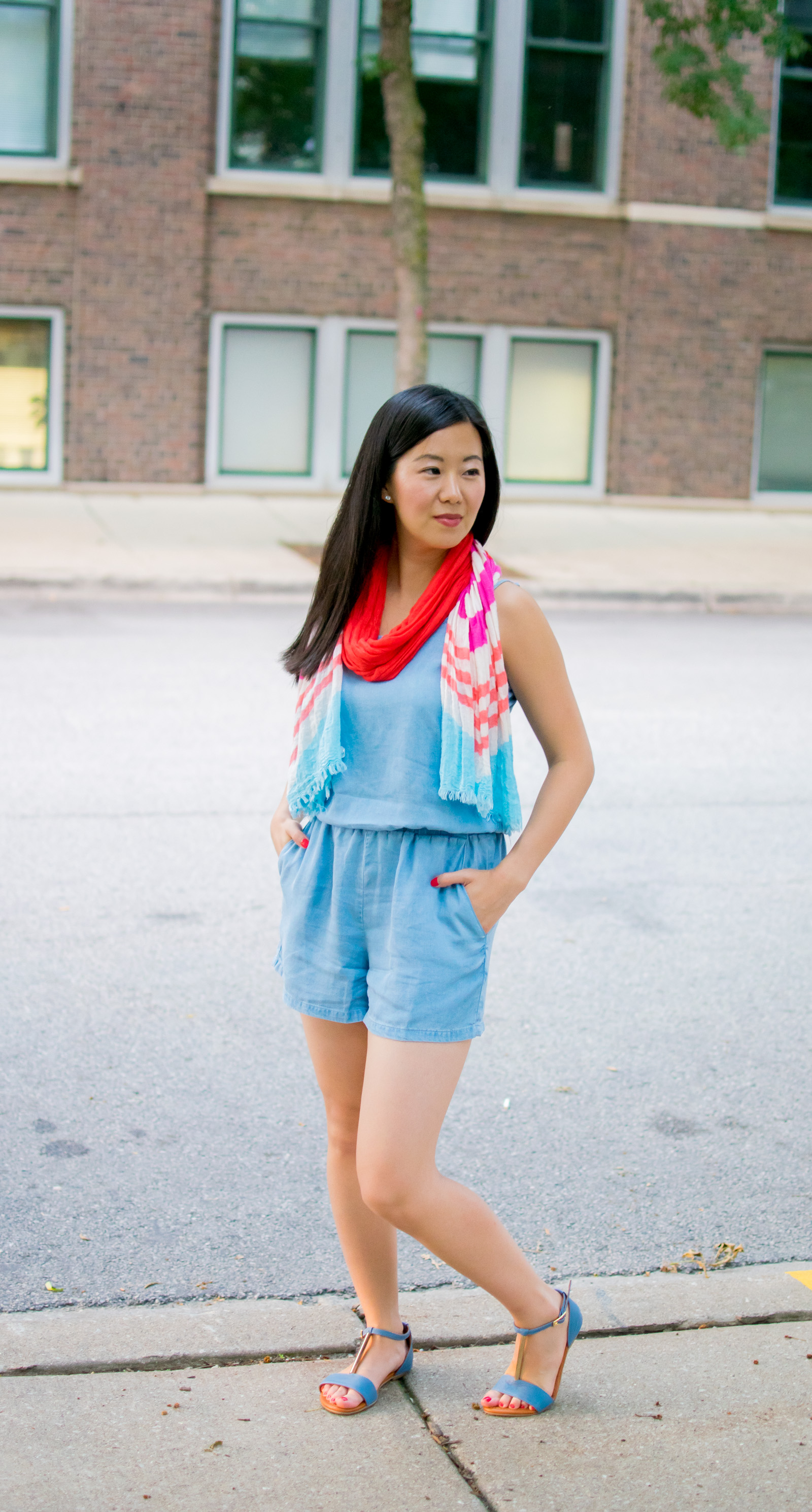 This chambray romper is so soft and comfortable. The waist is elastic, which comes in handy when I'm slouched at my desk all day. It's also really easy to slip off for those necessary trips to the restroom. I've definitely wore a romper before that had a zipper all the way down the back that was kind of impossible to zip and unzip by yourself unless you're a contortionist. Chris sometimes asks me "how would you get dressed without me?" I DON'T KNOW! I guess I would have to wear this romper everyday.
My office is sometimes freezing (but not always) so I also paired it with a linen scarf that I wrapped around my shoulders like a shawl for a few hours during the work day.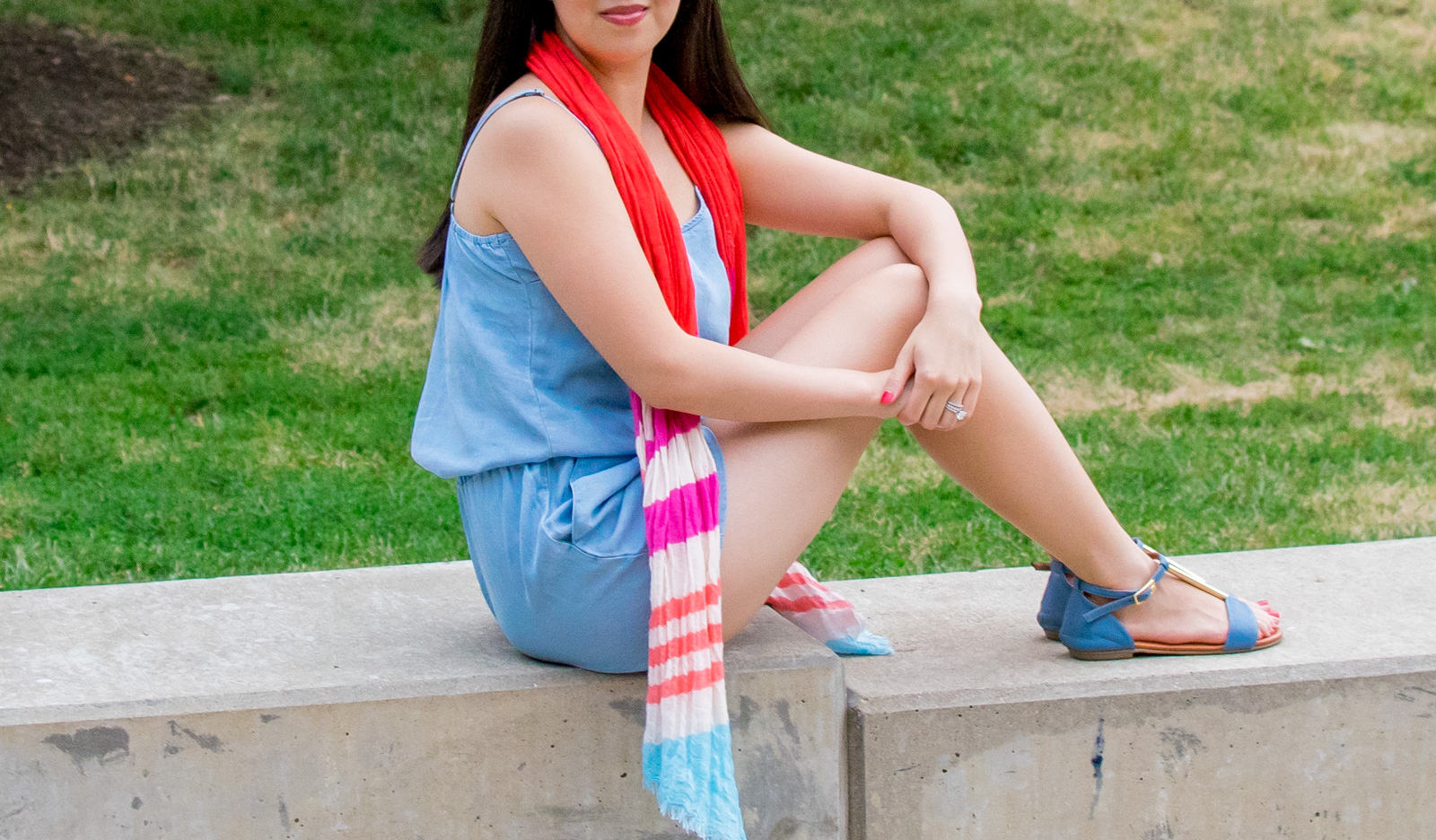 Now for my favorite part of this outfit – my shoes! European Famous Brands reached out to me recently about their startup company – they import shoes, scarves, and socks from Europe. I was super pumped to try out the Paloma Sandals. How cute are they? Not to mention incredibly comfortable. Even more comfortable than my block heels.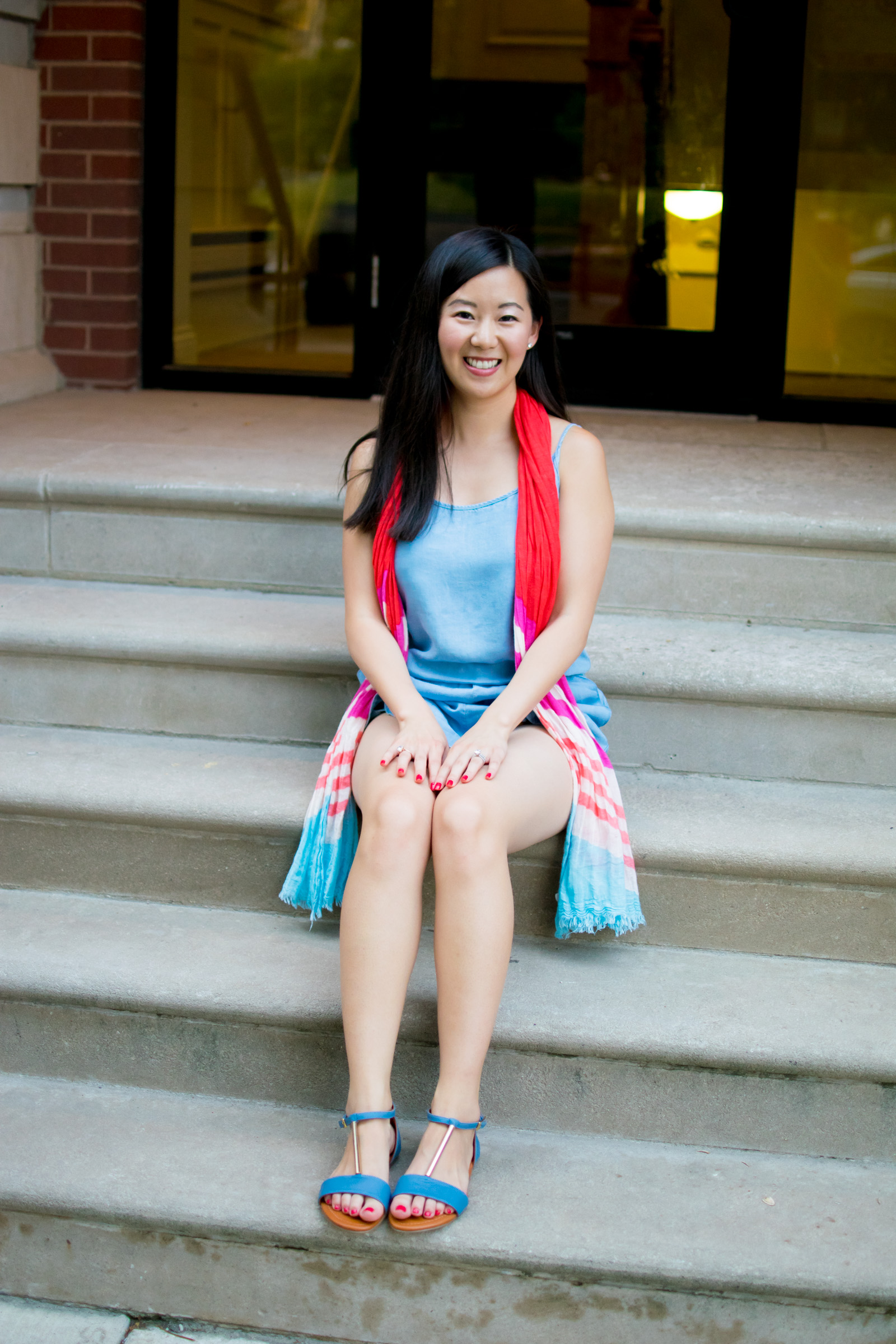 The leather is buttery soft and didn't require any breaking in! I put these on in the morning and walked 2 miles to work – no problemo! Zero blisters. The soles are also cushy and mold to my feet as I walk.

I've been wearing flip flops or Toms to walk to work, brunch, happy hour, etc. and then changing into different shoes when I arrive. But these are cute enough to walk in and wear to all of the above events! They also come in red and blush. I love how the blue ones will go with so many of my dresses as well as jeans. They'd be great with a little white dress for a low-key engagement party or bridal shower. Gotta wear the something blue! Lastly, they're very affordable –  less than you're going to spend on those Nordstrom Anniversary Sale shoes!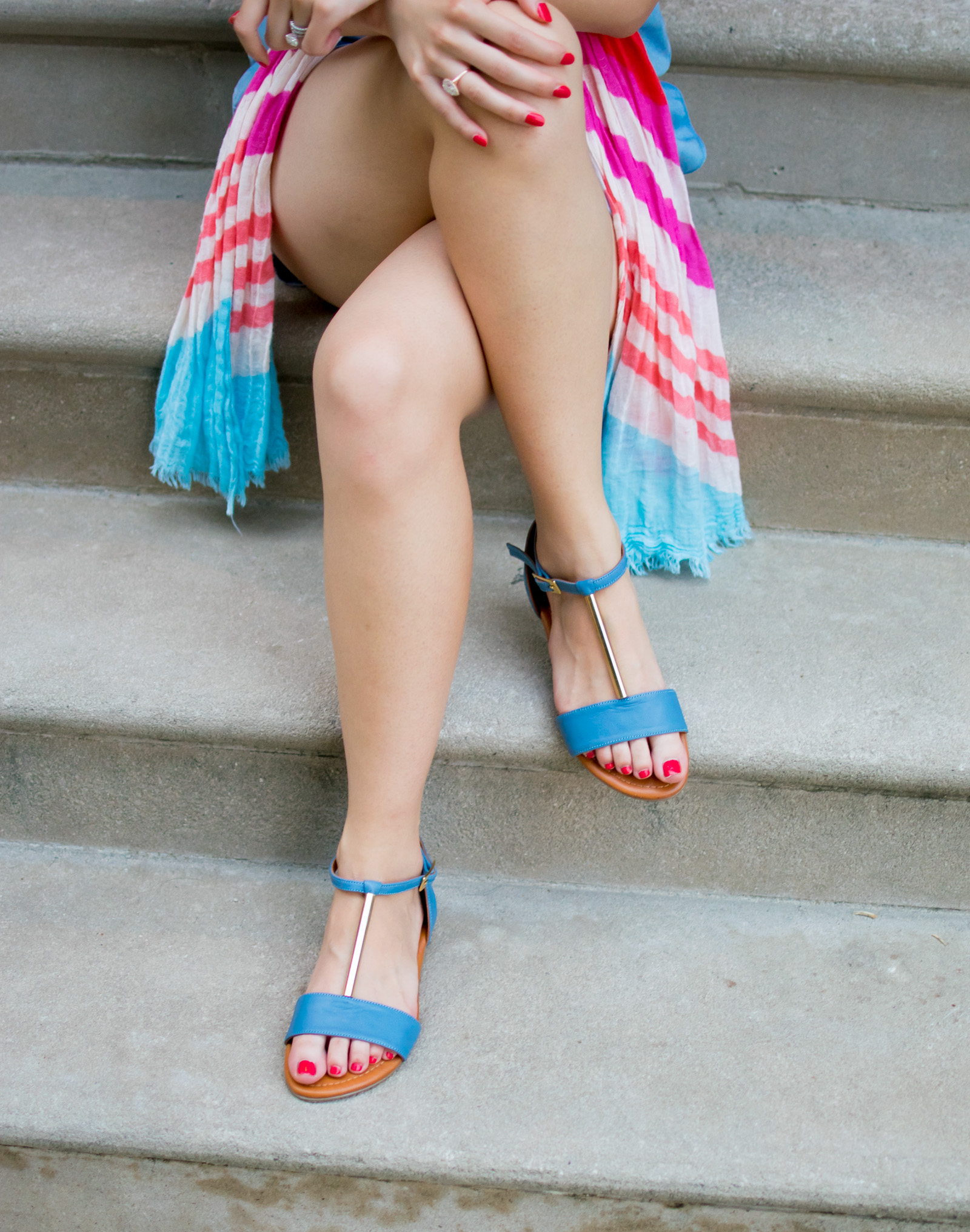 View links to my chambray romper and similar scarves below (my J.Crew scarf is sold out).