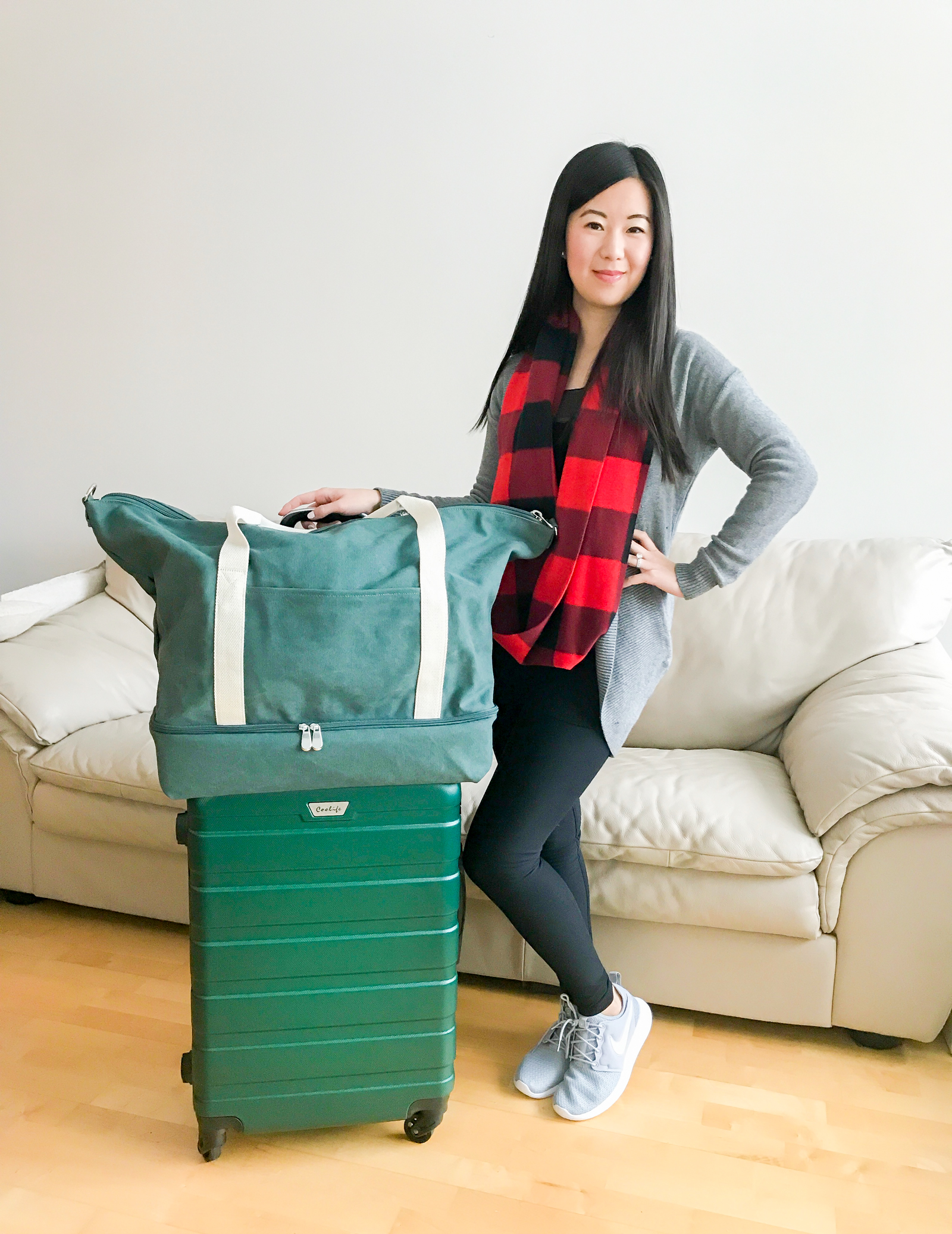 Hi Guys! Happy Thursday from Switzerland! I have barely slept since I've arrived, so please excuse any typos or sentences that don't make sense, haha.
I have a bunch of travel posts coming up, but first I wanted to share what I wore on my 8 hour overnight flight to Europe! Long flights are brutal for me. I can never get any sleep, so I have to try to at least be comfortable.
Pants – When I was in high school, I made the mistake of wearing tight jeans on a 15 hour flight to Beijing…MISTAKE. I don't know how some of you ladies wear jeans, but I'm a leggings gal. I heard that the altitude makes you bloated, (it's definitely the case with me) so I need the extra give in the waist band. Also, black leggings hide stains, like the time I spilled red wine on both Chris AND myself (it was the turbulence!). He had a wine stain…I did not.
Shoes: I rarely wear gym shoes outside of the gym (much to Chris's dismay – he thinks I'll walk faster when we're out and about if I wear gym shoes. The issues is not my shoes. He just has longer legs/bigger strides!). However, I make an exception for the airport. These comfy shoes are pretty easy to slip on and off for security. I will sometimes wear flats if it's summertime, and gym shoes won't go with my maxi dress, but I'll bring socks to put on just for the security line! I am too scared/skeeved out to go barefoot…all those germs!
Luggage: I love all the pretty/expensive suitcases that a lot of girls have, and one day I'll pull the trigger, but for now, I use cheaper yet durable suitcases. Why? Bad experiences. Even if I bring a carry-on, I'm often stuck checking it. In April, I flew American Airlines and they checked my carry-on at the gate, saying that the overheard bins were full (they were not – the one above my seat was empty). Then they LOST.MY.BAG. I had to wait around at the airport for almost two hours (as well as Chris and my parents-in-law) after landing in Orlando while they searched for it. Then, in September, I flew American Airlines again, and the EXACT SAME THING happened! Brought a carry-on sized suitcase…it was taken at the gate..it was lost. (Maybe I need to switch airlines?) Anyhow, my point is, my suitcases go through a lot. I'm not ready for the additional stress of a nice suitcase getting potentially lost, damaged, or stolen, not to mention everything inside them. Luckily, I have a few "soft" bags that I use as a carry-on or personal item that have never been taken away from me. I like the Lo & Son bags – pictured is the Catalina Deluxe – it fits sooo much! (This is not sponsored whatsoever, by the way).
What's your flight uniform?
Shop the Post