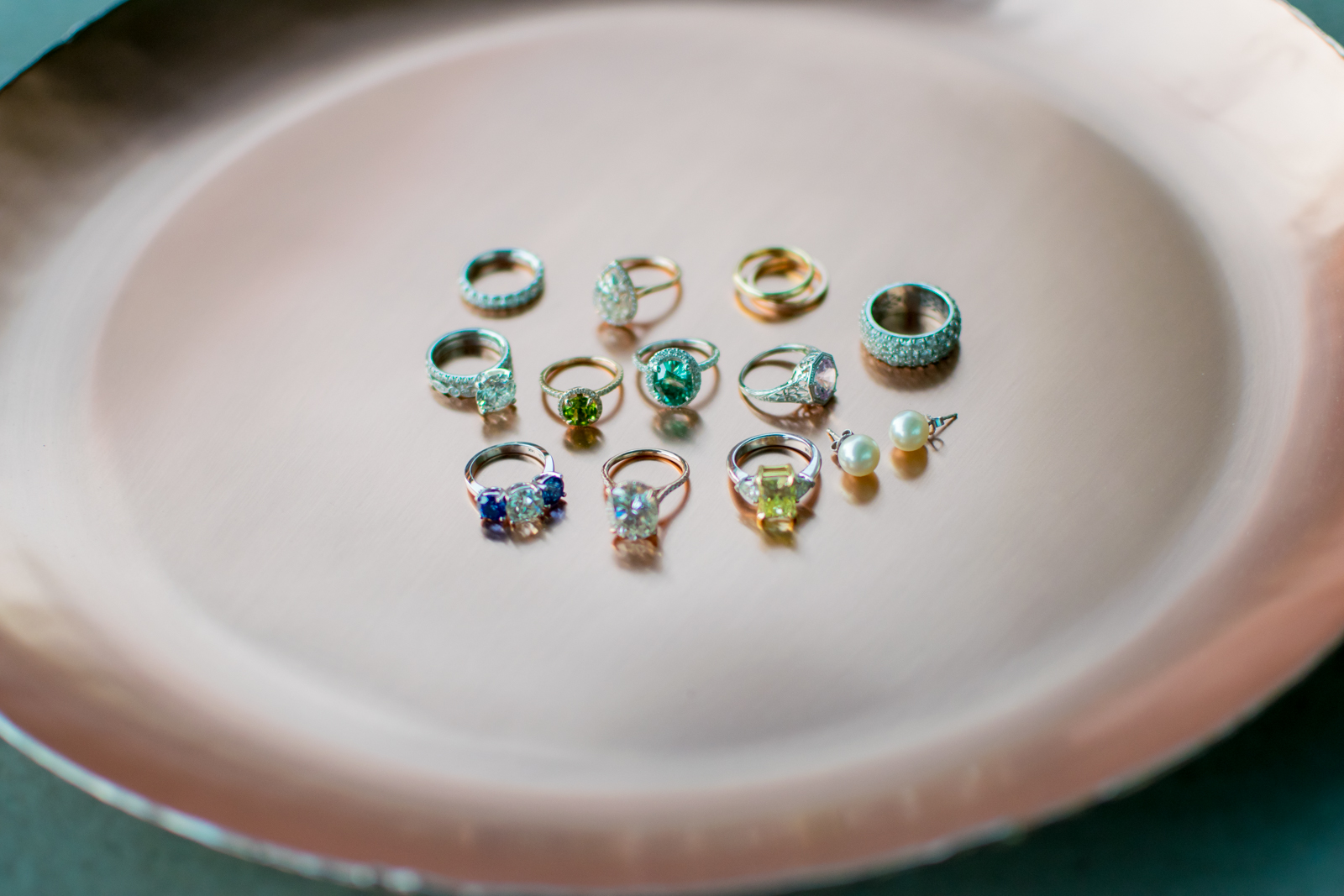 Hi Everyone! Happy Hump Day! How's your week going so far?
On Monday, I remembered mid-day that I had signed up for a Mediterranean cooking class with girlfriends at the local Sur La Table (actually I wouldn't have remembered if my friend didn't email me). I had completely forgotten! After work, I went to a quick happy hour, and then directly to the class.
Typically, I don't wear rings when I cook, with the exception of a plain band, but there wasn't anywhere I could safely store my diamond rings since I came unprepared. So, I just wore my engagement ring and wedding band, as well as a pave band on my right hand while we made lamb skewers, rice, yogurt sauce, and fritters. If you have an intricate setting, pave, or little holes on the underside of your band, it is SO easy to get things trapped, like food, lotion, lint, and bacteria. This is why at hospitals and labs, employees are often only allowed to wear a plain band, for sanitation purposes.
Today, I'm sharing my favorite fine jewelry cleaning tips, all using common household items. I know some people swear by their favorite branded jewelry cleaner, but I've only ever used the below methods! I get so many compliments on how sparkly my rings and earrings are, almost on a daily basis. I guess it's working! (By the way, I wear CZ stud earrings, which everyone mistakes for diamonds! That's because CZ is known to get cloudy, but I clean mine regularly, and they come out sparkly).
Some of my friends have told me that they don't actually clean their jewelry. I used to wear a peridot ring and a tanzanite necklace regularly, and never gave either a deep clean. They looked fine to me, and I would wash by hands/shower with them on,  so they were clean, right? Boy, was I wrong. It made a world of difference actually cleaning them – I must have just gotten used to how they looked dirty/cloudy! Cleaner stones make for more sparkle, which actually make your stones look bigger!
Dish soap and warm water – This is my favorite method! I do this pretty much everyday with my rings. I place a few drops of dish soap in a little bowl, and fill it up with warm water. Then I place my jewelry in the dish, and let everything soak for 10 minutes or so, usually when I'm in the shower. This solution will do wonders alone, but for the best results, I use a small makeup brush to clean under and along the sides of any stones where a lot of residue accumulates. You could also use a soft tooth brush, but I like how gentle yet effective an eye makeup brush is! It's also small enough to get into all the crevices in the settings. If you think about it, you wouldn't only use mouth wash to clean your mouth, you have to brush and floss, right? Another tip: Do NOT use hand soap. Make sure it's dish detergent, like Dawn or Palmolive. Hand soap contains moisturizers and is actually one of the causes of cloudy stones.
Vodka – Yes, vodka! The ethanol in vodka can kill bacteria and dissolve oil and dirt. I just pour a little bit in a shot glass and plop my rings in. Don't let anyone accidentally drink this! Soak for 10 minutes. I also like to use a brush to do a little extra scrubbing. For diamonds, it's important to try to clean under and on the sides, not just the top, because it affects how the light reflects and how sparkly it is. Rinse with water, and pat dry with a towel or microfiber cloth. I often use the leftover vodka to clean my sink.
Sparkling water/club soda – If you know me, you know I'm OBSESSED with LaCroix. But I also love regular sparkling, unflavored water. Recently, my office installed a sparkling water machine and I drank 8 glasses in matter of hours, only stopping because my stomach started hurting. I don't pack cleaning supplies when I go on vacation, but I'll always be drinking sparking water. When I noticed my jewelry looking a little dingy, in a quick pinch, I'll soak them in sparkling water! The bubbles will knock debris out of the setting.
Other tips I've heard but haven't tried personally:
Windex and warm water
Baking soda and warm water
Do you clean your jewelry? Do you avoid wearing them when cooking/cleaning? Share your best tips!
Disclaimer: I'm not a jeweler. Also, I'm defining fine jewelry as anything that is made with gold or platinum, and stones such as diamond, ruby, sapphire, amethyst, aquamarine, garnet, topaz, peridot, emerald, morganite, citrine, and tanzanite, and moissanite. I also use these cleaning tips on gold and platinum plated cubic zirconia jewelry. Do not use the above for pearls. If you have any concerns, please contact your jeweler.