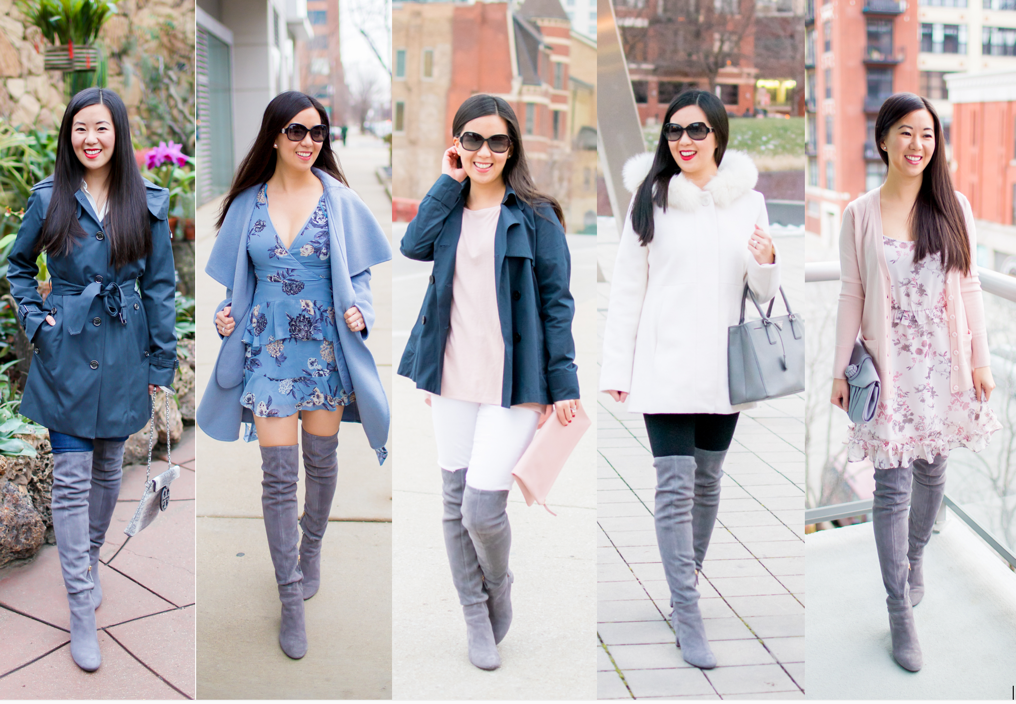 Hey Guys! Happy Friday! We're in the middle of a blizzard right now! I get to work from home today! When I was a kid growing up in Georgia, we had "Snow Days" built into the school year. That way, if we had half of inch of snow and had to cancel school, we wouldn't have to tack any more days on to the end of the year. If if didn't snow, we got extra days off. I remember explaining to people that I didn't have school because it was a "Snow Day," despite the fact it was 70 and sunny. Haha.
Anyways, today, I wanted to talk about over the knee boots, especially this pair (more affordable pair here and here) I've been wearing endlessly, as you can tell from the collage above! Someone commented on my Instagram that these boots were the MVP of the wardrobe…totally true! I've worn them to everything from work, to brunch, to a bachelorette party. I especially love this pair because 1) they're gray suede and go with everything, and 2) there's a bit of a heel, but low enough to walk for a couple miles with no problem. They look both dressy and casual!
Jeans
Trench Coat: London Fog / Shirt: Everlane / Jeans: Paige  / Bag: Tory Burch, similar here
Over the knee boots totally dress up your jeans! Imagine if I was wearing these exact same outfits but with flat booties or sneakers. So much more elevated with OTK boots, right? But not too dressy.
Dress
Pink Dress: Leith / Pink Cardigan: Halogen, long version here / Blue Dress: Love, Fire / Blue Coat: T Tahari
Over the knee boots make dresses work for colder weather! There's the option to wear them with some leg showing, or a longer dress so that no leg shows! It's also a little more casual than wearing pumps!
White Pants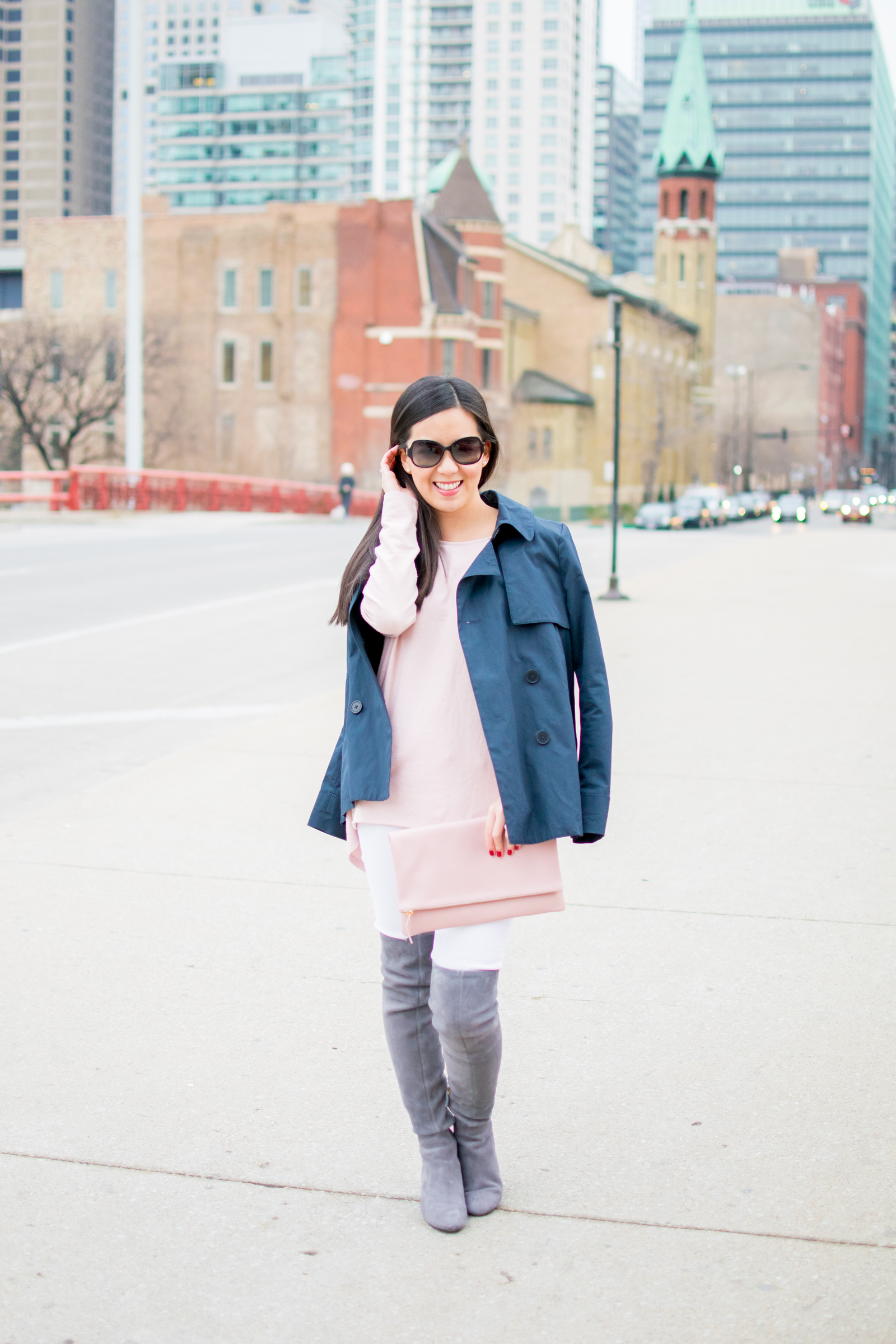 Trench: Everlane / Sweater: Gibson / Pants: Articles of Society / Clutch: Everlane
White pants don't need to be reserved for spring/summer! These actually have distressed knees, but obviously you can't tell with my boots. Over the knee boots winter-ize this look for sure.
Leggings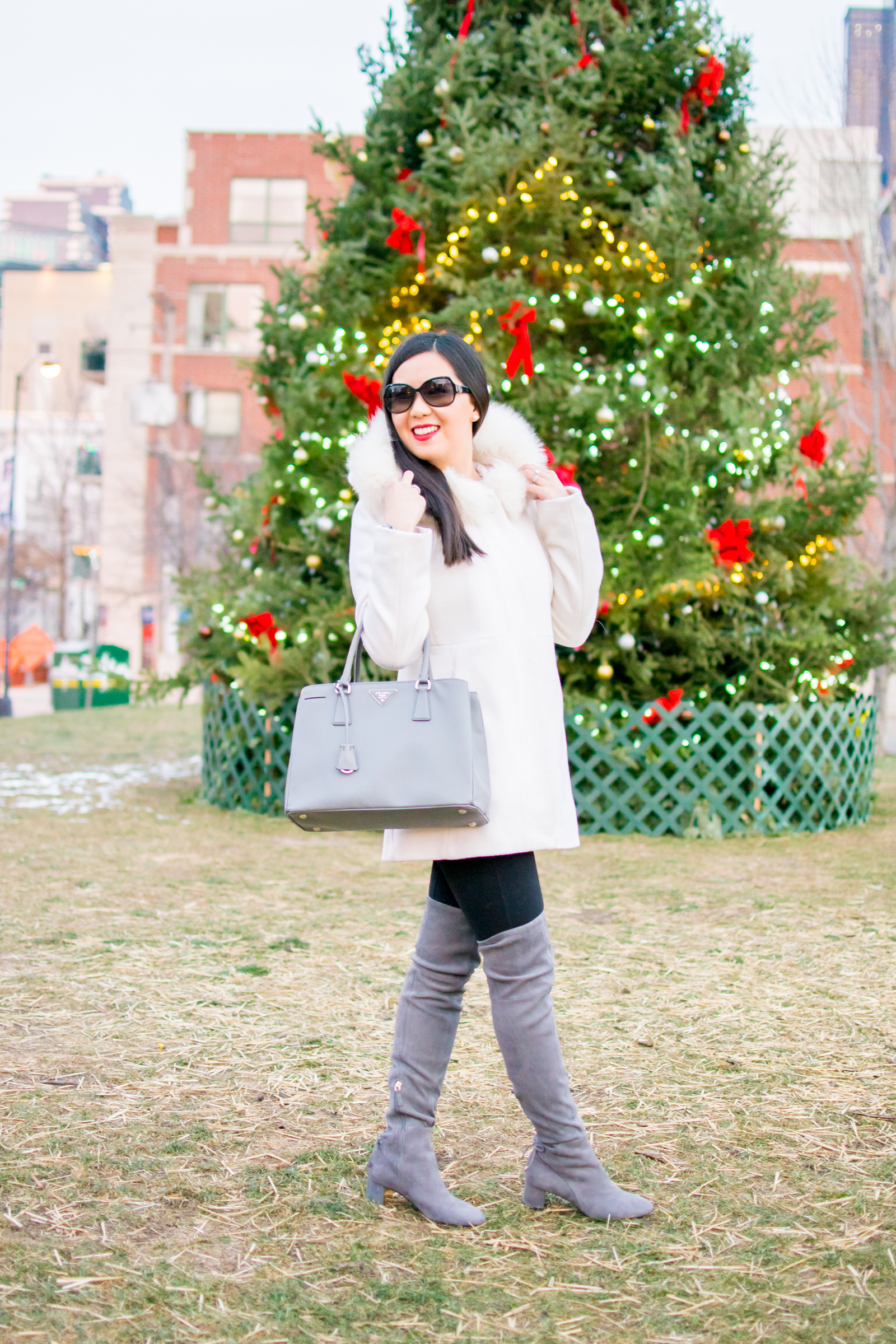 I'm obsessed with leggings – they're so comfy! I wear them all the time, but if you're against wearing leggings as pants, this also works if you need to go to yoga, and head straight to an event. You can pull boots over your leggings to look semi-dressed up.
Check out some other over the knee boots below! I'm also obsessed with these waterproof, flat boots in black and gray.
Have a great weekend!
Shop the Post